I have had my Kreg pocket hole master-kit for years and love it. Today I bought the Rip-Cut jig. I LOVE THIS THING!
My disability is getting worse and it's hard to handle large pieces on the TS. I've got a fair bit of cutting to do to build the cart for my new commercial mixer. I bought some 5x5 Baltic Birch today. I got a great deal by making a road trip (90 miles one way). Because I was going so far, I decided to stock up. I ended up getting six 5x5 sheets. Two each of 1/4, 1/2, and 3/4. Even the 1/4" 5x5's are too hard for me to handle anymore due to the weakness of my arms and legs. There's no way I could handle a 5x5 3/4 alone. So I had them cut them all to 30x60 so I can handle them by myself. I usually buy my BB at a supplier about 20 minutes from me. I thought he was a little more expensive, but he's convenient. I found out this morning that my local supplier is charging $62.95 for a 3/4 5x5 BB. The place I ended up selling it to me for $28.50!!! It's less than HALF the price! With gas at $1.25, I didn't mind the trip. The whole load of 6 sheets cost me less than $150 including gas.
I set up a workbench in my garage so I don't have to drag it all down to the shop in the basement, Now it's easy for me to throw a 30x60 3/4 up on the bench and use this thing to cut the 1x3's I need, It works great!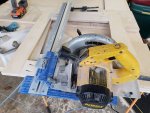 Last edited: