Administrator
Staff member
But I did say I'd get to it. The steel beam we had installed a few years ago finally got covered today.
I started with clamping each piece in place to scribe the ceiling contour to them.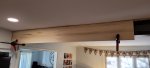 Basically the top side is fastened to the wood plate above the beam, then the poplar wraps it.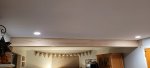 I did a 1/4" round overon the bottom edges.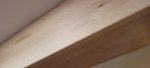 Seems a bit strange not seeing it after so long.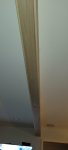 I did hold out hoping my wife would warm up to the track trolly pulley.
I have some drywall patching and trim left to do yet. Oh, and paint!