Just getting started on the next project, a set of three living room tables for a customer in Indiana. He likes Craftsman styles, but wanted the tables to match a clock I built for him last year in mahogany that had a Greene & Greene finish.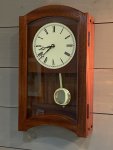 Additionally, he wanted the lines to be a bit softer than what might be seen on a Stickley piece. So, I came up with this design and they loved it. The tables feature through (some faux) tenons and spindles in the Stickley style, and tops with breadboard ends and (probably) ebony accents more in the Greene style. All three tables have drawers that will move on wood slides and sport blind dovetails.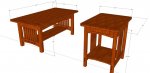 Just beginning the milling process now, but will work on this in between making drawer fronts and laying on varnish on the dressers in the bedroom suite.