Administrator
Staff member
I know a couple of you have one of these (
https://www.weber.com/US/en/product/igrill/igrill2/
), I picked up one a week ago and got to use it on Tuesday. It's got spots for 4 temperature probes, you can slip different silicon sleeves on each probe and match them in the software to keep track of them. The app has a lot of good features and can setup each probe with different alarms, depending on the temperatures you need to cook things too. I was using one as a chamber temp monitor to let me know if my pellets jammed (which happens time to time). The batteries are supposed to be good up to about 200 hours as the bluetooth turns itself on/off to save power, seems to be pretty good at reconnecting.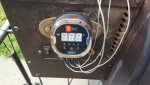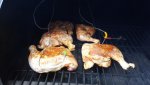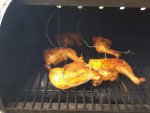 The phone app will log the temps and graph them, can export that data out of one chooses.

I did find out they have a max temp limit of about 500*F, which my smoker gets up to about 750* on start-up, pretty much cooked the silicon sleeves off the two probes I had placed in there, so those got replaced and I'm only using the probes once I've dropped it back down to cooking temps.