That large Limbert coffee table is going to have an inlay of lighter wood. Leo is making up templates for me to use with my inlay router bit/collar set. Never done this before, but, how hard can it be?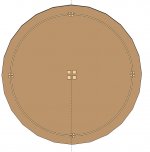 Here's the conundrum - When do I do the inlay? I have applied the dyes but not the stains that follow. If I stain everything first, how do I not damage the stained surface when planing and sanding down the inlay? If I inlay first, how do I avoid getting stain on the lighter inlay wood? Any ideas?
Is there a wood so light and tight grained that the stain will not affect it much? Is there a way to plane and sand without upsetting the stained surface?
Here are my thoughts, so far.
I've not yet decided on an inlay material, but I'm assuming something I can thin way down using my planer and drum sander. I had thought of buying some holly but is it too soft? Too white? Maybe maple?
So, in order to get it as close to finished thickness as possible, here's my idea. Go ahead and finish staining the table. Plane the inlay material down to near 1/8" +. Rout the table top to 1/8". Route the inlay to 1/8" leaving just a skin on the underside to hold it all together. Then run the inlay good side down through the drum sander till the skin is gone leaving the loose pieces. These should seat near perfect. Sound right? Minor scraping and very careful sanding should finish the job.
I know many of you have done inlay work. I have, but only a few pieces many years ago. All comments are welcome!