Administrator
Staff member
First I removed the cyclone tube from the DC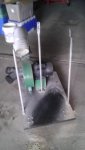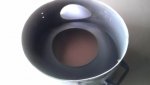 I then cut a 20" square piece of 1/2" MDF and drew two lines corner to corner to get my center point. I then rough cut a 19" circle from it. The interior diameter was 18 7/8" for the cyclone.
I mounted a 1/4" bolt in the T track of my router table at 9 7/16".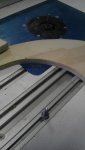 Drilled a 1/4" hole 3/8" deep in the circle for a pivot point.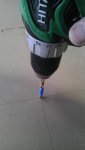 I bored a 3/4" hole through a 1/2" piece of scrap as a spacer.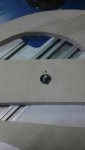 I mounted a 1/4" sprial up-cut bit in my router, this allowed me to start the router and lower the mdf into the blade to trim up the circle.
Using my original layout marks for reference, I marked out a 120 degree area.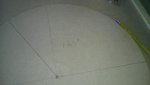 I then drew a layout 1 1/4" smaller in diameter for the remaining 240 degrees, and rough cut the section out.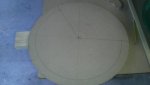 I moved my 1/4" bolt 1 1/4" closer to the router bit and trimmed up the circumference of the smaller radius.