A Master Gardener friend gifted me three Pawpaws a couple of years ago. They don't attract the normal pollinators like bees, but are pollinated by flies and beetles, which don't do a very good job. As a result many people pollinate them by hand with a soft artist's brush. They also require pollination by a tree from a different genetic strain. One of my trees came from Mt Vernon and the other two from separate colonies near Yorktown National park. The Mt Vernon tree has done the best and is 6' tall: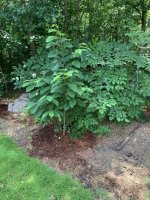 ,
The other two are much smaller: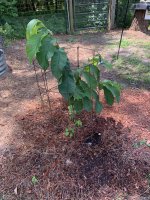 .
I think it will be a while before we see any fruit.