Well while i am at it catching up on posts i thought what the heck you guys are always teasing me with your cooking so here is a teaser for you. Linda made a great beef wellington yesterday (think she was trying to impress Mil lol) .
For those of you that dont know what beef wellington is it is tenderloin (we call it beef fillet) wrapped in pastry and cooked in the oven.
But the beef is covered in chopped mushrooms and other seasoning before wrapping.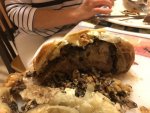 Eat your hearts out. I originally took the pic to send to my youngest who spent the night out and was missing out on this meal. Told him to compare it to his Big Mac lol. He was not happy.