Administrator
Staff member
My wife and I started back on keto last week. Since we're both working at home, it's been a bit easier to plan and have time to try out some recipes. Yesterday I made some garlickly pulled pork in the slow cooker. Then tried out the new tortilla press with a recipe from Gnom Gnom.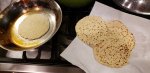 Suuuper pliable, 2g net carbs and not eggy (at all!)!
There is a variation of this for chips and for pizza crust also. The tortillas were pretty pliable and didn't crack. Texture wasn't quite the same as flour, but they were a hit!
I'll be doing several others of their recipes, next up is
pumpkin cheesecake
.