Okay, I have been at this kitchen overhaul since May, working mostly on free weekends. Most major construction/destruction has occurred over 3 day weekends, and it has been almost entirely my work as a lone gun. My father took a day and helped demo when I got to the point where ALL of the old cabinets and the walls could come out.
For some background, this house was built in the 1850's (which will become evident when you see the framing--coming later), and has been in my wife's family since it was built. We were invited to stay in it while I finished grad school, as long as we took care of the place and fixed it up a little (a much bigger job than originally thought).
The kitchen is 9' x 11', and appears to have been last renovated in the 1950's. Since there was not originally electricity or plumbing in the house when built, all the appliances were placed in the kitchen, since it was near to the main water pipeline and original fusebox for the house. Thankfully, a 125 amp breaker was installed in the 1980's (which you can see just behind the washer/dryer unit).
Since my wife has been very patient with living in this old 1200 square foot house with all its idiosyncrasies, I decided that it was time to make a major renovation in the kitchen, as it was a nightmare to get two people in there to do anything at all.
I will let everyone enjoy the "before" pics, and will update a little later, but I must warn that I am still in the process of making the cabinets, so things are still a bit rough.
So far, we have:
(1) Had the electrical upgraded to a 400 amp service (mostly to run electrical out to the barn for my shop, and allow for an on-demand water heater to take less space in the kitchen). This is the only thing I hired out.
(2) Installed a new, energy efficient window.
(3) Installed all new plumbing in the house (a fun 4th of July weekend project).
(4) Torn out all drywall and T&G poplar underneath.
(5) Stiffened up some of the walls between the post and beam.
(6) Added Foam Insulation between the "studs".
(7) Are in the process of adding new cabinets, giving LOTS of new storage.
(8) Added a new oven, refrigerator, water softener, on-demand water heater, and
(9) Started on a pass-through breakfast bar that will allow the kitchen to be viewable from the living room.
You can see some of my very first attempts at cabinets--those are the white painted objects that convinced me that I could actually succeed at this task. Most of those were made with nothing more than a router, a circular saw, and a Kreg jig.
On to the photos:
The narrow entry:
The south wall: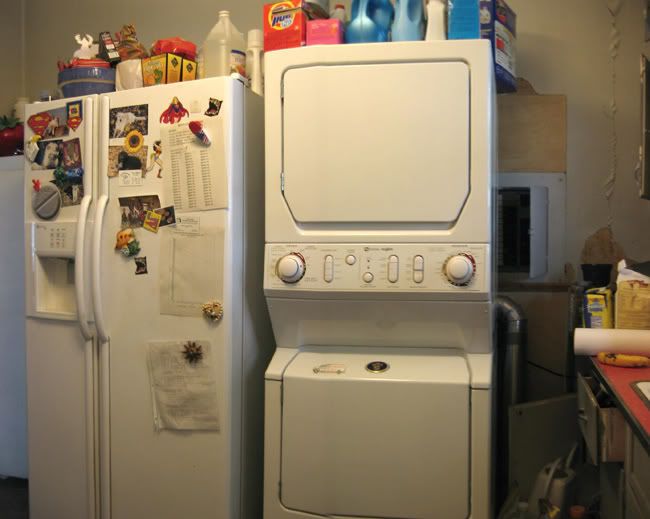 A panorama view:
The north wall: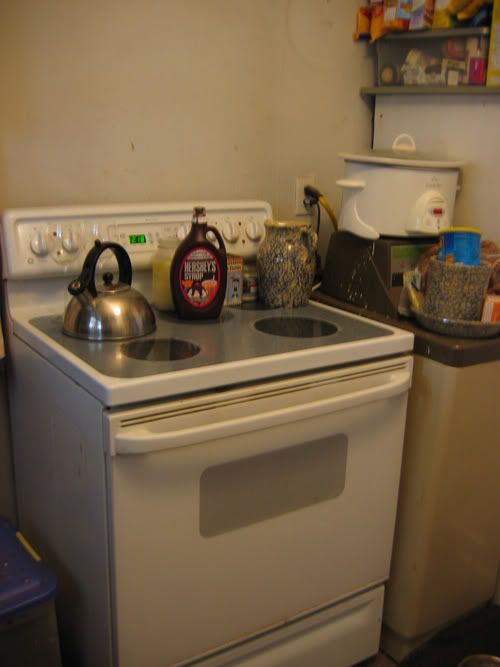 The poor sink and counter: