Administrator
Staff member
Here's a cherry bowl I finished recently. It's my first cherry bowl; I turned it from dried stock. After all the interesting grain I've been seeing in the red eucalyptus I've been playing with, this cherry was pretty boring. It turned nicely, though, and being dry already, I was able to get a bit more instant gratification. This was my first time of intentionally using a glued-on tenon. (I glued a tenon on an earlier bowl after breaking off the original one.) I also intentionally tried to stay with a more traditional utility bowl shape, which was a first for me. It'll make somebody a good M&M bowl.
It's about 3" tall by 7 1/2" wide, sanded to 400 grit and finished with a few coats of wipe-on poly and buffed.
It's a little wide on the bottom, but I guess that'll make it less likely to spill the M&Ms.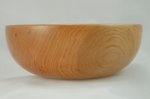 Comments and critiques are welcome, as always...