As part of a recent auction "mixed lot" I picked up this somewhat rusty Disston D-8 thumbhole saw. Not in the best shape, but not the worst and the tooth line looked salvageable. Here I've just gotten the saw nuts out.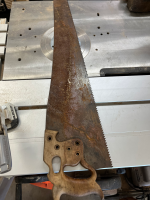 A little WD=40 for lubricant and a bit of work with a razor blade and I got the bulk of the rust off.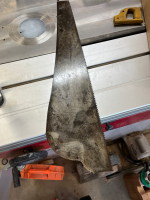 Some 400 and 800 grit wet/dry with a flat sanding block and it's looking not to bad
Even has the etch still!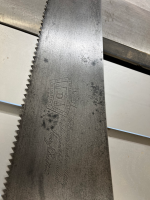 The teeth were a bit uneven from previous sharpening attempts, so I ended up taking two jointing and tooth shaping passes. You can see here how once you darken the teeth with bluing or a sharpy it's not to hard to see the flats from jointing it. Then it's mostly just a process of chasing those down until they all evenly disappear taking moderate passes from each side (more confident sharpeners could, I'm sure do it in one pass... but I still kind of take my time a little even on coarser saws like this).
I also re-set the teeth fairly coarsely, it's a 5 TPI saw so I'm mostly planning to use it for ripping construction grade stuff.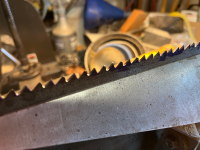 I had to re-glue a couple of small cracks and a splinter in the handle and then sanded it back lightly and hit it with a coat or three of wiping varnish. The plate also got a good coat of paste wax.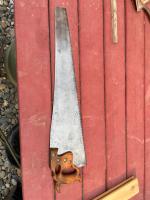 I don't know who "E.R.L." was, but he was clearly proud of his tools and I'd like to think that if he knew he'd be happy to see this one back in shape and good for another hundred years of use.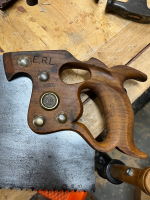 How does it cut? Fast, smooth, and a little coarse just like a 5-TPI saw ought to. I might stone the teeth to ease the set a little eventually as there's quite a lot of clearance but I'm pretty happy with it for now so unless that causes me to much drift I'll leave it for now until I try it one something a bit stickier...