Administrator
Staff member
I'm looking to somewhat match the fold up table I'm making to door trim color in our RV. It's kind of a weathered barnwood look.
I picked up 3 different stains, did a SWC (shellac wash coat) on the sample board, which is a cutoff of the same material as the table.
I then did a sample of each of the two grays, and an ebony as we have a lot of black trim inside as well.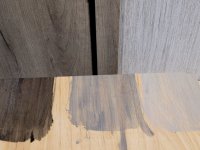 I think the middle gray is a good match, but there is a lot of black tones in the RV trim. So I tried some of the gray over the black. It did smudge out some of the black as I applied it.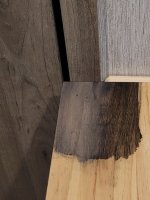 I think its a very close match.
Do you think sealing the black with SWC before applying the gray will keep it from smudging out the black?