With the success with the Halloween Witch I have decide to make a few Christmas decoration for the outside of the house. The first will be a sign to go above the entrance to the house.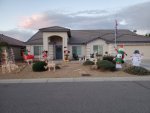 The sign will simple by the words Merry Christmas and will be painted blue. The letters will be backlit with blue lights similar to the witch to produce a halo effect.

I next need to figure out the size of the letter to cut out. By scaling the picture of the arch to the proper dimension to use as a scale I can then insert the SVG file of the message and determine the maximum size that the lettering can be.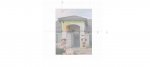 so it looks like 12 1/4 inches is the max. I want the letters to be clearly visible from the street so bigger is better.
Next I take the svg and create a fusion sketch. I know the the Y in merry will drop down below the rest of the letter so I scale the SVG file to 11 inch letter height. This make the overall length 99 inches and divides the lettering into three smaller sections that are very easily cut on my CNC.
I'll mount the whole thing on a single backing board but more on this later. I still have plenty of the 1/2 MDF left over so I will use it for the sign. I did discover that it is outdoor MDF and with paint it should be fine in the weather for the few weeks that it will be out. As a side note several neighbors saw the witch and when they saw me making measurement for this project they have expressed an interest in getting signs made for their house so who know maybe a cottage industry forming here.