Administrator
Staff member
This is not on the scale of the logs Dave harvests, but I got a chance to cut up some free urban salvage wood this afternoon. My nephew had some trees cut down earlier this week, and I picked up a few chunks a couple of days ago. He had fresh ash and choke cherry that I'm looking forward to turning soon. While I had the chainsaw out, I also cut up one chunk of maple I picked up a few months ago, as well as some ash I've had for a few years. The maple was still somewhat moist, but the old ash was pretty hard and dry. I have quite a bit more of the maple and old ash (plus some old sycamore) stashed in a shady spot in the side yard.
In this photo there are four half-rounds of choke cherry on the left, a stack of old and new ash in the back on the right, and a couple block of relatively fresh maple in front.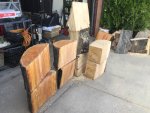 Here are a few more pieces...in addition to some new and very old offcuts, there's another half round and two full rounds of fresh ash. The dark face on the half round is some type of disease. You can see the same dark face on the middle chunk of ash in the previous photo.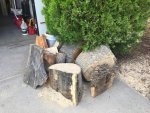 I got some shower curtains hung in the lathe area of my shop yesterday, so now when I start flinging curlies on the lathe my benches will stay cleaner, and the cleanup will be a lot easier. Here's a pano shot showing the lathe zone. On the left (behind me as I'm turning) is the sharpening station and turning tool storage. The curtains should help keep the chips from covering those benches but they move out of the way easily to access the grinders and tools.