I decided to post a couple more pics of some items already shown, and I've made some changes too. All prices are plus shipping. I'll take cash, check or personal paypal [no fees.] Click on any image for a larger version.
First up, a Union 6" combo square. The scribe has been bent, I think to keep it safely in the body of the head. The level is intact. I took the photos to show the small amount of blue paint on one side. $22 SOLD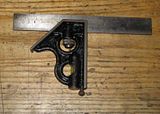 12" combo square, rule says Stanley, protractor by Millers Falls, with intact level. I incorrectly said the 45/90 head had one intact level, but it doesn't, both levels are shot. Scribe is very nice. Also, I'm adding a centering head, but the locking mechanism has been repaired on it, and it may not last under a lot of use.
$10.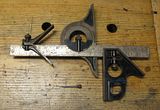 Stanley 220 plane. Standard angle block plane. No frills. The throat does not adjust, and there is no lateral lever. It is in fine shape, and I flattened and honed the blade. It will work out of the box. $15 SOLD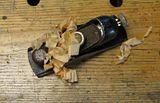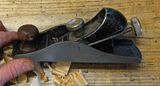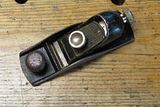 Stanley No. 61 marking gauge. All wood, including a really nice threaded locking knob. Plenty of scribe left. Everything moves easily. In very nice condition. $10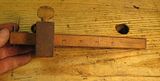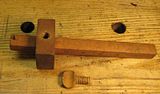 Big old nippers. That is a big nail they just cut through. Made in USA, with removable jaws. This is a monster. $5.
BOOKS:
Wood Finisher's Handbook by Sam Allen $5
Making Whirligig & Other Wind Toys by Sharon Pierce $5 SOLD
50 Handy Things to Make with Wood by Jack Kramer $3
Shaker Furniture by Edward Deming Andrews and Faith Andrews - this book is a classic, with great B&W photos. Only selling because I have 2 copies. $5 SOLD
Making Wood Toys That Move by Alan & Gill Bridgewater $5 SOLD
Making Heirloom Toys by Jim Makowicki $8 SOLD
Reproducing Antique Furniture by Franklin H. Gottshall - this is a hardbound book in excellent condition, with drawings and plans for about 30+ antique pieces including Queen Anne Tables, Lowboy, Sheraton Bench, a Grandfather clock, spice cabinet etc. Not for a novice to build from, but great inspiration and information. $10 SOLD
I will be happy to ship books via USPS media mail, which should be pretty cheap in the USA. Crossing the northern border significantly raises shipping costs.
Last edited: