Well, I left that stack of wood too long, and now I got mushrooms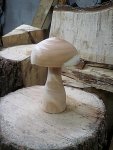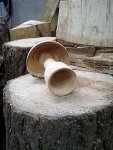 I saw Eli Avisera turn some of these, and thought they looked fun!
They were!
I've got to refine my technique a bit yet, but they are surely fun!!
I have two pieces of that Ginko wood, that were branches, maybe 4" thick.
This one was not really round,so the rim of bark did not work out, but as I work up the branch further it gets rounder.
I need some hollowing tools, guess I'll have to make some!
Cheers!