Things are about to get serious.
I've been drooling over this bench at Home Depot for over a year. I just couldn't justify the cost for as much as I would use it. But with my kitchen cabinet fabrication looming in the near future, I really need it.
I normally work on a makeshift bench made of an old hollow-core door thrown across a couple of sawhorses. But that is too low and before long, my back starts bothering me. This new one has a 52"x24"x1-1/2" solid wood top and is easily adjustable from 29" tp 42". With the number of hours I'm going to be standing at the bench fabricating my new kitchen, I can easily justify the cost.
I've just gotta get my buddy to come by tomorrow and help me get it off of the old bench and onto the floor. It's a BEAST that weighs in at 130 lbs! This thing is awesome.
https://www.facebook.com/photo.php?fbid=10222392381269059&set=a.1678529813791&type=3&av=1553888503&eav=Afb_aDdZ4yg1rMWSV5ODQncKgk2PF7mnW7FxUcqLhHHoVgTzu9DajcGJHHS30EZ7Lgs&eid=ARCwWYmiQUwZQPcZVULDMAfTNO31aoWJNW57T_Rhi2qJ6YwuEapMHDWEVkJXkAsHswORevybglHj9t35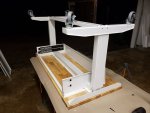 Last edited: