I finally took the plunge into a new (for me) era in outdoor cooking. I've had stick burners for many years and enjoyed using them, but . . .
To be honest, a bit (well, more than a bit) of laziness has crept in and I was growing tired of having to tend the fire on my OK Joe Longhorn. It's a great smoker, but it was time for something new. So, here it is!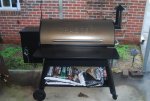 For my first cook on it, I whacked up a chuck roast and made some jerky. The second cook was some wings; bad on me for no photos!!!