We had about 15 people coming for Thanksgiving dinner, which we held on Sunday night, so my wife told me I was going to smoke a whole turkey for dinner. Now, the issue with this is that I have never smoked anything much larger than a pork chop, Oh, OK, I smoked a ham once but I wasn't happy with the result. So naturally, I got ready to complete my mission. I googled the simplest turkey smoking recipe I could find, and got ready with some LaGrille rib and chicken spice, and with the help of my son in law to give moral support, we prepared the turkey, heated up the smoker to 260º and put it in. I spent the next five hours running out to check the temperature, at first every five minutes, then every fifteen minutes. After 90 minutes we put the smoke pan in, with maple chips which was all I have left, and went to watch the baseball game. As it turned out, we didn't need to worry much. The bird duly reached the proper temperature and was a lovely dark brown and really juicy when we put the temperature probe in. My wife had done a Butterball in the oven as well (She of little faith) and we had lots and lots of the stuff, but the smoked turkey won out.
After we finished the turkey, we put a 3lb. salmon fillet in, and smoked it. we served it with crackers before dinner. I turned my back on it once and when I turned back it was gone. I got enough for one cracker, but it was delicious. My SIL and I had both done salmon before, so there was no fear there.
Anyway, jsut to prove it really happened, here's a couple of pics: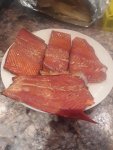 I'm sure I posted this yesterday, but maybe I missed a step like hitting "Submit new thread"