I was fortunate to buy a couple of Lie-Nielsen planes BR (Before retirement). One of them was the 60-1/2 Adjustable Mouth Block Plane, which has been a favorite. A few weeks back I was using it outside in the rain to bevel the edges on a bunch of crap wood, and almost dropped it on the concrete driveway. I eventually oiled it up and put it back in its sleeve and decided to look for something that I could use in the rain, drop on the concrete and not feel so $bad$ about. Someone had posted elsewhere that Jorgensen was producing a similar plane at a decent price and they were available at Lowe's, so for less than $35 I ordered one. A Jorgensen corner easing plane ($30) also popped into my basket.
No affiliation.
Neither of these disappoints, but the block plane is very nice. Less than a minute on the stones flattened the back, eased the corners and honed the edge. Just as substantial feeling, clean cutting and comfortable in the hand as the LN.
The edge easing plane is also well built and has a decent adjustable blade which is accessible for sharpening by removing several T-15 torx head screws that hold the body together. The only criticism is that replacement blades don't seem to be available, but I don't see the need for a replacement anytime soon. I like these guys.
,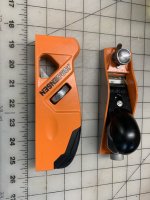 ,
,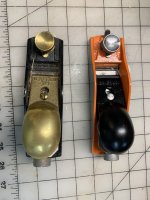 ,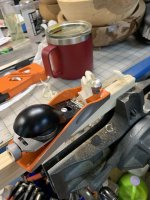 ,