Administrator
Staff member
I didn't just wake up this morning and decide that I should buy a new generator, but shortly after, the thought crossed my mind as the power went out. Actually, I had thought I needed to finish swapping that new carburetor onto my old genny, which I bought about a month ago. Unfortunately it wasn't a direct match and doesn't look to fit. So I started disassembling the old one.
I might have located the issue. However, my wife and both needed to work today, so off I went generator shopping.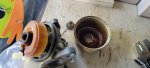 I didn't feel like I needed a whole house generator, the old one has sat unused for 10 years. I did want something larger than the camp sized one I had. I ended up settling on a Generac GP3300, about twice as big, but light enough I can still lift it.
It's been running the fridge, freezer, and wifi all afternoon now, isn't too noisy, but not the quietest I've ever heard either.
I did pickup some carb cleaner. Will get that old one sprayed down and hopefully working again, the carburetors on them are pretty simple with very few (if any) adjustments. I'll probably donate it to a good cause.