Administrator
Staff member
I've been working on a new version of the Iron Horse Rockers I built about 15 years ago, scaled down to come out of a 4x8 sheet of plywood, birch in this case.
This is the first proto-type, but will reduce the engraving for these motors to 1/8" deep rather than 1/4" as they are here.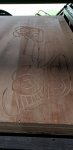 The issue with my spindle sending and estop happened 3 times during this part of the job at the same spot. I finally reduced the speed/feed to about 60 ipm to complete this part. I tried changing a few of the settings on the vfd, but still no luck. I will check all my grounding tomorrow to see if maybe it's a noise issue with one of the estops.
Tomorrow will be pocket cut-outs and dowel holes, then part cut-outs for the main body. I also need to work on a hose hanger as it was really starting to chip up that front edge of the plywood pulling across it.