Permit Requests submitted in early February. Estimated turnaround time, 4-6 weeks. Just got the approved documents yesterday!!! . . . sorry, I had to backspace over short rant on bureaucracy and job justification delays at the City Offices . . . let's keep this upbeat
This is what it looks like now more or less. This picture was taken months ago but, shows the progress since that time.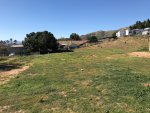 30 x 40 x 10, 2x6 construction on a slab. Here's the general idea but, it keeps morphing. I will say that the delays have led to me percolating on things and making many small improvements that I might have missed if those delays hadn't occurred.
Here's a rough idea.
The partial walls in the
'plan west'
area are only 8' so although that area is cordoned off it is not separate as far as environmentals are concerned. Things like doors, DC, lighting, electrical, HVAC and large machine locations are pretty well set. I have quite a few "ideals" that I am shooting for. We will find out together how close I get. One of my top-of-the-list items was a small spraying / finishing area. Nothing fancy, just a 2" foam board construct that will peg together somehow. The door in that location is 4' x 6'7" and opens out 180 degrees. I plan to build a fan-filter-door fixture that will swing in and and out of position. The foam board walls will collapse and store behind it when not in use.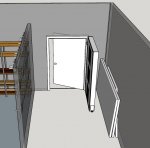 .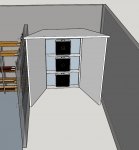 There are other niceties that I will ramble on about over the
'however many months'
it takes to get through this. The California desert basin is a far cry from the Florida pan handle or the farmlands of Nebraska so my requirements may seem odd to some. Skills learned in my previous smaller work areas mean that
'a place for everything and everything in its place'
will be the target I shoot for. Sometimes my aim is better than others but, that's the goal.
I wanted plenty of power, headroom and dedicated open space for assembly and construction. I've paid my dues in using tool surfaces with drop cloths for work surfaces, having machines on rollers so I can store them three deep when not in use and grabbing a ladder to climb up into the rafters for things that lived there since I just plain ran out of room to store them them
. I've worked since high school, saved my pennies and planned carefully for retirement. Let's see what happens
.
Please feel free to ask questions along the way. Most of the ideas I built into this thing I stole from someone else. Your questions may lead me to yet another
'face-palm-why-didn't-I-think-of-that'
moment . . . and that's a good thing. I've certainly had plenty of them over the last year or so while dreaming this thing up.
Last edited: