Administrator
Staff member
These aren't mine, but I get to use them.
Mike and Jeff (my bandmates) split the cost on a pair of new PA speakers, and they arrived yesterday. We've been using a nice pair of passive Yamaha 10" 2-way speakers and a 1500 watt Crown power amp. No complaints, but there's better technology available. We now have a pair of QSC K10 self-powered speakers with 1000 watts of bi-amped power built into each. Now we can do away with the power amp completely and run the mixer directly into the speakers. These two little 32 pound boxes mounted on tripod stands can put out essentially the same decibels of sound, and cleaner, than the 500 - 600 pound PA stacks we lugged around in the '80s. To be fair, these won't have the same amount of throw in an outdoor venue that a traditional PA stack would, but for our needs playing smallish places, they're actually better than something larger. Also not quite as much bass as the 5' tall bass bins we used back then, but with the addition of a modern subwoofer or two this pair could shake some serious windows. They're rated at 129 peak dB, which is way louder than we'd ever dream of being. (That's like "Larry snoring" loud.)
In our case, we're not a loud, bass-heavy dance band, so subwoofers would be pointless. (And using digital signal processing, these little guys put out a lot more bass than you might suspect.) These little guys will just give us a nice step up in audio quality and clarity at any volume. And since Mike and I are not using any guitar amps at all on stage, our guitar sounds gets to benefit from the new PA speakers, too.
Looking forward to giving them a test drive at our gig Friday night.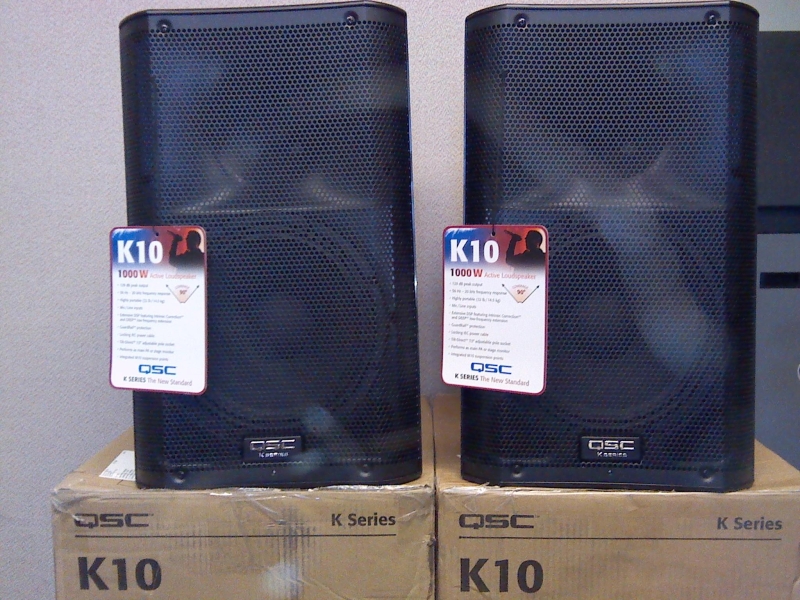 I told the guys I was feeling guilty for not contributing to the new PA, so I'll go buy us a laser light show and a couple of fog machines. That should go over well in a small pub at happy hour, huh?