Sorting out a few things out in the garage today and decided to clean up this old ships adze my dad had gotten from my grandpa and then gave to me. I'm not sure on the age of the adze but guessing probably pre-WWII.
For things like this I mostly use a flat bastard file and "draw" (or more accurately push..) file them. It's fast, airly accurate, and leaves a pretty decent finish. I'm not trying to get rid of all of the tarnish here the rest I tag with some CRC-36 and lightly brush out and call it good (the CRC-36 converts loose rust to a protective black oxide and leaves a slight wax coat).
Not quite a mirror finish but this is right off of the file and it's sharper than 90% of most kitchen knives. It'll *almost* push cut paper. 5m with a 1000 and 6000 grit stone would get it there, which might be worth it if you were doing finishing cuts. I'm not usually good enough with an adze to do finishing cuts (and frankly the "proper" technique of cutting up under your shoe kind of gives me the heebies hah). There are a couple minor nicks still left in from poor use and corrosion but they won't affect the use much so I didn't try to get in back past them.
Before I got it someone had taken a grinder to it and spent a bit of time putting divots into the part that's supposed to be flat (or very slightly curved to the front) so it took a bit of work to get it back to where it ought to be.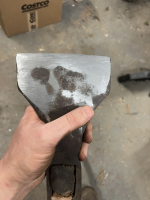 The bevel side wasn't so bad and only took maybe 10m to get into some sort of shape. I might like a wee bit finer edge but this'll do for now since I don't have an immediate use for it.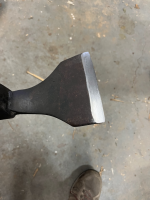 The whole assembly, with the spike head, There is much speculation on what the spike was for... but I haven't found a satisfactory theory, The general ideas are either for setting nails lower, breaking up knots, moving timbers, or setting the adze for sharpening. I'm unconvinced of the certainty of all of these... heh.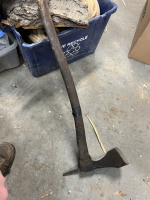 The adze came wrapped in an interesting old Great Western Malting malt bag. It's very heavy canvas and has clearly had a bit of a life. I'm not sure when they used these. Great Western was form in 1934 so sometime after that, and I would guess probably the early 80's at the latest based on what I know of the history. I might guess it came up with them when they moved from the states to Canada in the early 50's.