Jim Delaney answered a question I asked about the best finish for a heart pine table and then asked that I show something I made. Well here goes. In the mid 1980s I made some sofas (two oak and two cherry - kept the cherry,
sold the oak. I made the from a plan that if I remember correctly was in "Fine Woodworking". The original plan was for a sofa that would make into a bed. I did not think I had the skills to pull that off so I just made the sofas fixed. I am retired and should have a lot of time to build but it seems that is a pipe dream, but I do have some time and a friend of mine and I built a 20' kiln. One thing led to another and when I was waist deep in wood that I could not sell (sold some on the internet but not nearly enough so I decided to try to add value and build something. I have some spalted oak and pecan that I think is pretty so I decided to give the 1980s idea about furniture that makes into a bed another try, but mix in the spalted wood.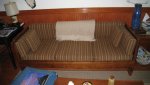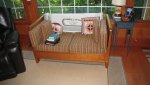 The first two are a full sized cherry sofa and a 2/3rd size I built 30+ years ago.
The next pictures are of the the spalted wood chair (ottoman to be built next, I already have the cushion made. I really like the variation in the wood.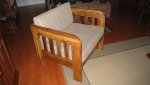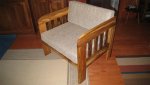 Makes every piece a one of a kind. I plan to make chairs with ottomans that make into single beds and if that works out make some sofas next (not sure what size bed to make it - suggestions welcome).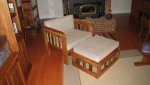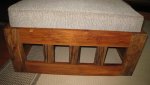 Last edited: