Time to harvest the jalapeno, Serrano, and Ghost Peppers that my daughter and neighbor planted for me while we were visiting family this spring.
Jalapeno and red Serrano peppers going in for a smoke.
,
Some of the Jalapenos got chopped up with my new little friend, which made perfect diced Jalapenos for cowboy candy.
,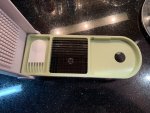 ,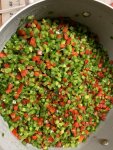 ,
The rest went into the dehydrator and then will be vacuum sealed in canning jars for future hotness where needed.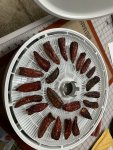 ,