Since 'upgrading' to Win 10 I have lost a lot of my previous capabilities and programs. Gone is Picasa with many stored photos and gone is PhotoShop that I used to upload and edit pics daily.
Ennyhow am trying a copy from Windows Pictures and paste to here. This pic is Tod with Larry on his last visit.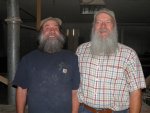 Dunno what happened, lot of trying and above appeared . Will post and try to open. At this point I am dumbflustered, want to post a project pic later, see what happens.