If you have any slight inclination to vomit at the sight of gruesome injuries, you should close this thread now....
The watch band didn't slow the chop saw down to any discernible degree...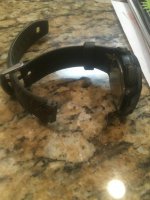 There's still time to close....
Every time I look at this I hurt all the way to the bone.
But, I do think about it EVERY time I flip a switch in the shop. I've never had anything like this (as I'm getting bloody knuckles from knocking on wood) but I have had some close calls and fate has given me some gentle reminders as to just how lucky I am.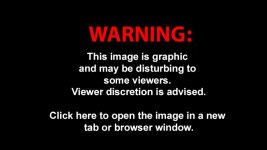 I asked how he did it and he said he didn't know but that it happened really fast. I'm guessing he was reaching across, holding the stock with his right hand and pulling the saw down with his left (I can't say I haven't done that), and after the cut brought his arm back across too close to the saw. I'm not sure how it could happen with guards in place, so I also surmise that they were not.
This happened over four years ago and he has (remarkably/miraculously) fully recovered and regained full use of his arm and hand. He works as a firefighter.
Alan
Last edited by a moderator: