Administrator
Staff member
About a year ago I bought a C&R listed CZ-82 pistol that listed as "Good, chipped grips" and for the price and no transfer fee I was willing to give it a chance. These pistols were painted, but overall it did not look "Good" with all the paint peeled off and broken grips.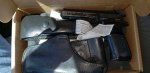 I let it set a few months then finally broke it down one night and bead blasted all the parts and re-blued them (or for its first time). Turns out it was in pretty darned good condition and most of the paint was just peeling. There's hardly any scratches on it.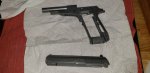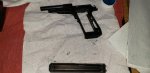 It sat for about another 6 months and I've finally re-assembled it. I'm ready to make some new grips for it.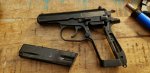 Tonight I started with some traces of the old grips and taking plenty of measurements of the backs and the pistol to create the recesses.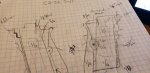 Those I traced in another software program, which lets me export to an autocad file, which I decided to try as a project in Fusion 360.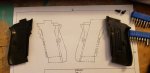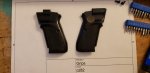 I'm still working through tutorials, but will update this thread as I make progress. I've learned how to do the extruding, just need to learn how to do sculpting in it and refine the models. I plan to 3d print them first to make any corrections, then will try doing some from wood on the cnc.