Bobbie and I have pizza about every two weeks. We prefer Digiorno frozen pizza rather than taking a chance on delivery stuff. We generally add a little to it to suit us. One item I've wanted to make for several years is a pizza peel, so I browsed my back issue libraries to find some examples. The one we liked best is from Woodsmith #191.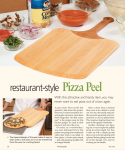 To get it started, I took the specifications from the article and created VCarve drawings for the flat and handle, then ran them on my CNC. The woods I used are redheart and hard maple.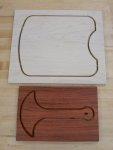 After cleaning up the edges, I used my router to run a tongue on the handle and groove in the flat.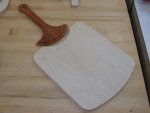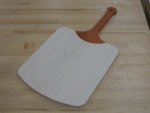 The next step was to taper the flat from a thickness of about 5/8" down to 1/8" at the end. That was done with a sled that fit my planer.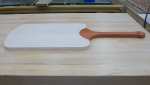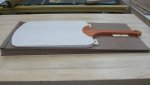 Once the taper was created, I sanded all surfaces and made the leading edge a little thinner. Then, I swabbed it with Watco Butcher Block Oil & Finish.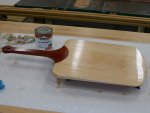 I applied a second coat of Watco after letting it sit overnight. Then, it sat in my shop from Saturday morning until Monday morning when I did some final sanding to smooth the finish. We'll give it a couple more days to cure, then give it a try!
Thanks for viewing!
Last edited: