Hi guys.
On the pic you can see how I keep my planes.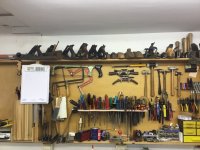 As I am undergoing a major shop reorganisation, I would like to have a different way of keeping them as the way they are they pick up a lot of wooddust, specially those that I do not use often. I am thinking about putting aside those that I never use (like the bedrock #7) and leave at hand those that I use most often. I am thinking about either shelves in cabinets, drawers or whatever. How do you have them stored? Show me some pics of your system and tell the advantages or disadvantages that you found on it or what would you change.
Any comment or suggestion will be greatly appreciated.
Last edited: