All this wet weather didn't do my garden any favors, but we are having a bumper crop of jalapenos. I usually grow the small/mild 'Tam' variety and there are several volunteers of Tam doing well, but this batch came from another part of the garden and some sets labeled 'Giant Jalapeno' which have lived up to their name.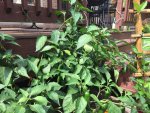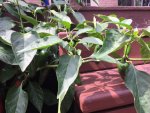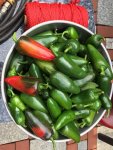 I decided to try pickling the surplus and found a
recipe
that looked good. After washing and sorting about half were nice, shiny prime looking peppers and half were
corked
, with some striations which many consider a blemish. When they are going to be sliced for pickles the cosmetic corking is just fine and I think they taste a bit hotter.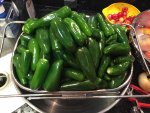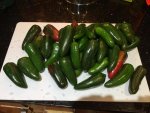 I ended up with 5.5 lbs of slices and kept the red ones off to the side to mix into each jar along with some carrot slices for color. Jars were washed in the dishwasher then heated/staged in a 250°F oven to sterilize them. Heated up the brine, packed the jars, poured in the brine, put on the lids and loaded the jars into my old (1969) Presto 21QT. pressure cooker which did double duty as a water bath canner. Ten minutes after they came to a boil I pulled them out and set them on a rack to cool. More than enough to last us through the winter
. I was surprised to find that parts for the pressure cooker were still available from Presto, True Value and Ace Hardware. The lady at Presto customer service told me they were faced with the choice of shifting their manufacturing to China or closing the doors. I had to sample one of the jars with tonight's burger and they came out great...nice and hot.