Well, you all know I have had my troubles with the first concrete guy. Here are some pictures of what he had done that I found very unsatisfactory.
The plans call for a monolithic pour. The code requires 12" footing below natural grade with a 6" above grade pad. In addition, apron pads for the doors (which are missing) and 20' continuous UFER wire. What I got was 3" footers , pad raised 12" or more above grade, no aprons, and a 8" UFER. In addition, 2x6 forms that left huge gaps at the bottom for concrete to ooze out.
Tuff Shed requires the slab to be square and level and the right size. This one would not have passed. The rent-a-building inspector approved it but Tuff Shed would not accept it. Recourse? Jackhammer it out and start over. I started over BEFORE the pour!
This shot shows the wimpy forms. In addition, not all edge were straight nor was it square. We didn't even bother to check for level at this point.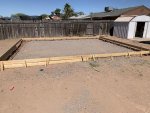 The shallowness of the footers.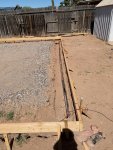 The forms way above grade.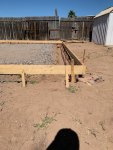 \We began by removing everything.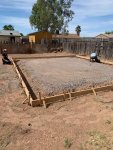 And scraping the pad down to finish grade.
I got a new guy much better qualified!
Machines work much better and faster than pick axes and shovels. And Vaughn knows how hard my ground is!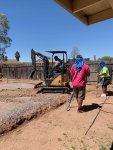 That guy did some serious digging.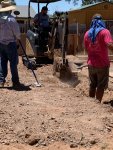 And straight, too.
Here we have 2x12 forms.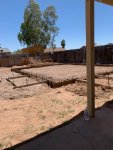 With aprons. All square and level. Proper UFER and electrical conduit into the building.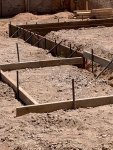 Start to finish 5 hours. The other guy, 3 weeks!
And tomorrow morning at 5 AM the concrete truck and pump arrive. More pix to follow.
Last edited: