This will be excruciatingly SLooooowwwww.
Remodeling the house is a number ONE priority.
BUT - I don't like doing that and I need a break from time to time.
I watched a State Seal being done by Melissa Jones of Nice Carvings - done in a HUGE slab of Cherry. WOW was that Awesome and I wanna do a state seal.
Mine would be Massachusetts - BUT - I need to develop some skill before I get there. Melissa is a Master that hase won awards around the world - I cannot get much more than a few WOW's from forum folk that don't know better right now.
Sooooo - this will be my first attempt at a state seal.
I choose to do Providence Rhode Island because it is within my skill level yet still challenging me to raise my bar a little.
Melissa Jones is an artist - HIGH LEVEL. Mike Autobodyman can do this stuff - for sure. I am inspired by those people - greatly inspired.
This is CNC - NOT hand worked. There is most certainly a level of skill needed here doing this in CNC. I would not consider this beginner level. I also would not consider it the highest level of difficulty.
I will for the most part post my progress. It is a real possibility that I could have this on the machine mid summer.
I will do it is Cherry - not sure how it will get finished.
It will hang as a decoration in my shop at, but maybe not forever.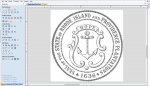 Sooo - to start - I goggled state seals and this is the best image - of a workable characteristic that I could find. Yes - yes there are better images - but for what I need - this is it.
I will show a lot of the software I am working because I think some people like to see that - sometimes - I know I like it sometimes.
This is where we get started on something like this.
The first step we need it to "convert" the "raster" image into a "vector" image - then build up from there.
The picture is a bitmap - .JPG I cannot do anything with that.
I need to trace lines around the outsides of the primary image sections.
The software has some automatic ways of doing the tracing - but I prefer a more labor intensive way - I draw the vectors one at a time so I get exactly what I want.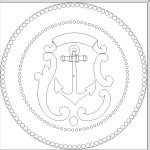 I created an array of circles for the inner circles and another for the outer circles.
All the lines inside are drawn by me - tracing around the bitmap image.
I shut off the bitmap so you could see the traced - "vectors"
The squiggly on the left side is smooth - because I edited the "nodes" and smoothed it out.
Prior to node editing - the vector lines were choppy like the other vectors in the middle.
I need to finish node editing.
I just played around created a preliminary image of how it is going to look at we get done --- LONG LONG way to go to get to the finished product - this is just a tease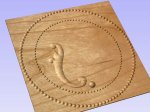 I have a LOT of work to do - adjusting heights and creating the rest of the images.
The text will need to be dome too - but the software text will be used. I CAN edit the text and modify the font if needed - but I don't think I will need to.
Keep watching - I will update as I need a break from Remodeling.