Administrator
Staff member
So SWMBO has requested to put the interior shutters on our dining room windows. It's 3 windows actually, 2 casements and one that is stationary.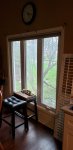 We had a blind company quote doing custom shutters and that came back to the tune of about $1000.
So after a little shopping, I found some plantation shutter kits for $80 a set, but I'll need to build the frame for them to hang on as there really isn't a good structure with the replacement windows we have in our house.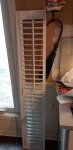 Here is the frame design I've come up with. I'll be removing the existing casing around the window, the frame will be the same outer dimensions as the existing casing and attach in its place, then the casing will be re-installed over the frame to trim it out.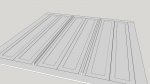 The center supports will have some strong back braces added to prevent flex.
I'm looking to use the pvc trim to match the shutters, which are also made from pvc. I'm wondering if there is a way to dye the material vs painting it? There isn't much clearance in between the shutter flaps and their frame, so I think it would flake/peel. She'd like to go with more of a tan color. If not I'll probably leave all the PVC white since the replacement windows are also white, so not a big deal.