Administrator
Staff member
LOML went to my buddy Jeff's cabin this last weekend, and I figured I'd share a few photos I snapped Saturday. The weather is definitely getting colder up there, so this will be the last time we'll be at the cabin until next year. My wife doesn't do cold well at all, and Saturday night was probably the last night above freezing there until springtime. (It froze Sunday night, and the forecast looks like the trend will continue.) This was our first trip to the cabin this year. Access to the entire Pecos area was closed for most of the spring and summer due to a very large fire to the east and north.
I didn't get as many opportunities for wildlife photos as I had hoped for. The Steller's Jays were about the only birds we saw. We did see a flock of turkeys and a few deer, but none of the quick cell phone photos were worth sharing. Most of these below were taken with my drone or my Nikon.
Jeff's dad built the cabin in the '60s and '70s. He was an engineer and he built it well. Here's the front porch.
And the back porch. The owners of the cabin down the hill are from Texas, but they happened to be there this weekend. The little enclosure to the left of the porch covers a small electric water heater. The cabin has plumbing that supplies collected rainwater, but Jeff drained the water system a few weekends ago in anticipation of winter temperatures and freezing weather.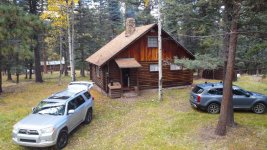 A drones-eye view. The propane tank is old and no longer used. We just bring 20 pound propane tanks. There's an outdoor hookup to power the range and oven in the cabin. There's also a gas grill on the front porch.
This is a couple hundred feet above the cabin, looking north up the Pecos River canyon toward the headwaters.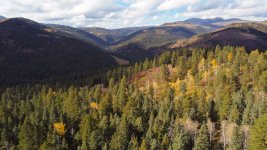 This was the only blooming flower I found.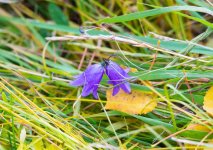 It didn't take long for the Steller's jays to show up...my wife brought food. This guy has a deformed upper beak, and we saw him last year as well.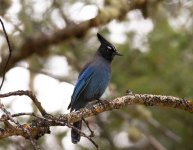 Pretty lucky timing on this photo. He shoots...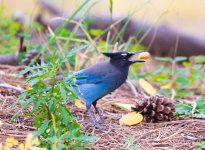 ...and he scores!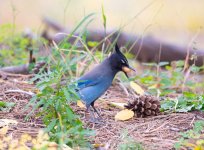 Just a shot from the cabin looking toward the road that gets you there.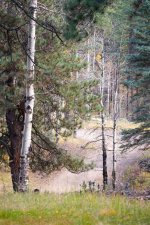 Jeff's dog Winston was willing to share his couch with LOML.