As some might recall I hand dug a pretty good sized chunk of garden space this spring.
We had a few adventures along the way.
First of course was getting everything ready, but I kind of half knew what I was getting into with that. The soil is hard clay so the extra digging and turning over the triticale cover crop that was planted last fall has really helped. The non turned parts are at this point unworkable concrete mostly. The turned parts are.. ok.. ish..
Next up was the squirrel apocalypse. The place had a much worse than anticipated or known infestation of California grey digger squirrels, which are a terrible non native nuisance species here. I natively started by trying to use the pew pew but quickly came to the conclusion that I didn't have time for that especially given their rather elusive nature. After a series of escalating trapping schemes I settled on a homemade box setup with a conibear 110 trap inside (not legal in all states..). The box keeps dogs, skunks, and curious kids out, but let's squirrels in. After a couple iterations I settled on a design I liked and deployed a dozen catching somewhere north of 100 squirrels in the first two months within a couple hundred yards radius of the garden. This was of course after they had eaten basically all of our first attempt at cabbage, radish, carrots, parsnips , various other bits, and beans especially beans. The squirrels are mostly under control at least within the immediate local at this point. I'm still catching two to four a week when it's not too hot around the perimeter.
Next up was the earwig apocalypse. Right around when I was getting the squirrels under control something like ten million earwigs descended on the garden. That finished of any surviving cabbage and put a serious dent in the early beets killed all of the other greens, and knocked back the surviving beans pretty hard. Also their cousins showed up at our house and ate all of the second generation of cabbage starts. We attacked them with a mixture of traps (tin cans with water, oil, and soy sauce to attract and down them), spinosads spray (an organic pesticide from soil bacteria) both directly on non flowering plants and also on cardboard "death hotels" (basically sheets of cardboard lightly split then sprayed heavily, lays lasts three to four days), and liberal applications of diatomaceous earth. Plus we've spent a fair bit of time just squishing them. This fight is ongoing.
Despite all that we persisted and have been finally getting a bit of stuff out. Quite a few beans from the second planting (and a handful from the first) have given us quite a few good green bean feeds. We're finally getting a good crop of beets. The third round of turnips are yielding a nice bunch of greens (and maybe eventually a few actual turnips). The fall crop of carrots and parsnips are coming in strong. We've gotten the first handful of tomatoes and the other thirty some plants are getting closer (yeah I know, we're sharing them pretty generously if they produce), the fourth planting of melons have melons, the 30 some pepper plants are in full bloom with a few actually starting to ripen. And it's looking like we might even get a couple egg plants!! A surprisingly delicious treat we just harvested was fresh chick peas not quite ripe but fully filled out roasted in oil in a hot pan then tossed with salt and chili pepper and a dash of lime. Sort of like a slightly smaller but maybe even more tasty edamame.
A couple of pictures, we're aggressively rotation planting so some of this has been recently pulled and replanted.
From the bottom.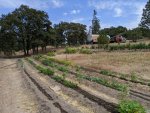 From the top by the tomato pepper and melon row, also near some squash and corn hills.