RE: repurposeing
There have been, and I am sure there will be again, times when I wished I had a chisel plane. As far as I know my only choices for one was Lee Valley or Lie Nielsen. And those are over $100.
Now I had cut the front of from a regular angle Dunlap block plane before and it works well for cutting glue off from glued up panels so I could send them through the drum sander and somewhat functioned as a chisel plane but I always thought a low angle block plane would work better. Well it is very cold outside and my shop has been put to bed for the winter, and I thought now is a good time as any to do it, so I used my Dremel tool with a cut off wheel and cut the front off from one of my block planes. I shaped it a bit on my disc sander. And the pictures are of what is left.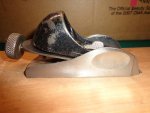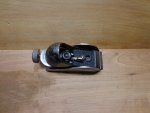 Some of my other repurposing items are chisels found at a flea market for a dollar or less, reground into dovetail chisels. I did a 1/2 dovetail chisel that I posted a while ago and lately I started on a quarter inch dove tail chisel. One needs to be a lot more carful with the quarter inch chisel. Not done yet but I will get there. Now none of these tools look nearly as nice as the ones from the big boys but function just as well and the flea market prices are a lot easier on my budget.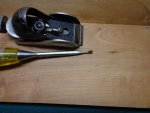 I hope it gives someone some Ideas about making using something to make something else.