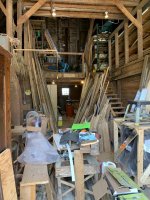 Motivated by Darren's good work today, I was inspired to come into the shade and address this issue during the hottest part of the day.
I haven't made much progress dealing with the residual mess from last winter's roofing project and my wife wants a big bookcase for the upstairs hall. There Is no place in this building to break down a sheet of plywood, except the empty hayloft and I'm just not going to drag it up there!
That spot at the back where that orange barrel stands is the most promising. We'll see how it goes.