Administrator
Staff member
Well, Haven't shown much progress the last few days, but I've been working on it. Found some things that must have come loose on the trip up to reno, so I've kind of taken it all apart to just add a little loctite to some things and make sure everything was tight and square.
For example, some of the corners opened up and were not quite tight to each other.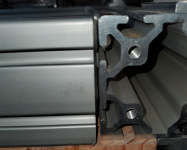 The Gantry wasn't sitting quite tight on the risers, and I noticed there are a couple of little anchor fittings that must have gone missing before Don got the machine.
Like Don, Once I got things back assembled I was finding that there was a tilt to the gantry that was driving me crazy. I tried several times to correct it, but found that part of my problem was checking it with a not so square 'square'. So I went to the pile of squares until I could find one that was closest to square.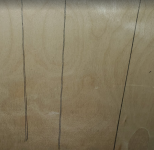 I then took a suggestion Darren had made about using a laser level to make sure the bed was coplanar. I loosend up the corner bolts, put the laser on a support and used a little block of wood, a pencil and shims to make sure the bed was flat and level and then tightened everything down again.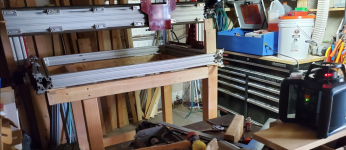 And success, It ended up being perpendicular on both ends without a whole lot of messing arounds.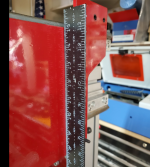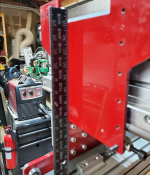 I also decided that if I do want to do a rotary, I'll do it along the X axis end of the machine, which gives me 4' of room instead of the Y, which would only give me 2' of room.
I ordered a new crossbar and some other fittings in order to make that happen.
While I wait for all that, I think I'll get started on the Electrical components next.