This is not just a story of the restoration of a jointer but also how simple mistakes and your own tendencies can control your life.
The mistake? Well, that is when in a moment of temporary insanity, I suggest my wife could buy a pottery wheel and put it in a "small" corner of the "shop" (A.K.A the garage). This "small" corner is now growing exponentially with a bench and now a desire for a slab roller. For the uninformed, a slab roller is NOT small. And yes, a kiln is probably just around the corner and also needs for glazing storage.
I am resigned to my fate and it is pushing me to get rid of machinery that I don't use that much. The jointer is the first on the list. I am pretty handy with hand planes and tend to grab them in order to establish a flat reference face for the planer or joint an edge. So, I have decided to sell the Jet 6" jointer which I hardly ever use now.
Now this is where your own tendencies or predispositions come into play. I have had the jointer for about 15 years, I guess. Surprisingly the infeed and outfeed tables are completely flat and co-planer. Apparently, I got some very good castings that did not warp over time. The only negative with the jointer, it was a little grubby and has some chipped paint. Jet did not do a good job of painting it. Any normal person would have just put it on Craigslist and be done with it. Okay, maybe a little better than your normal Craigslist listing, I could try and clean it up. You know, make it look nice.
So, I did that, but still it bothered me. The fence looked the worst to me.
Hmm, maybe I could just paint that. It would be easy to remove and simple to paint. I scraped chipped areas, sanded and then primed and painted it. It looked wonderful! Only problem was it was such a stark contrast to the rest of the jointer.
Well maybe I could also just paint the casting that held the fence? A little more involved as I would have to remove many parts as it slides the fence in and out and at different angles. I did it and again the result was beautiful.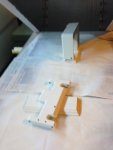 I think all of you must now know where this is going. The contrast now was even more glaring. I realized there was no going back and I had to totally take the entire jointer apart and repaint it. Putting this on Craiglist as is would have taken about 15 minutes. I just created a project that would take me through a several months during the dead of winter. I just didn't have enough dedicated time to do it faster.
To mitigate painting in the shop (garage) during the winter, I built an insulated box with two holes and stuck a light bulb in one and used the other as a vent. I would heat up the shop to painting temperature, shut down all ignition sources (the heat), spray paint the part and allow it to skim over with the box over it (without turning on the light). Once the paint skimmed over, I turned on the 150-watt bulb and then let it cure. Also, before painting the part, I covered it with the box with light on and brought it up nice warm temperature. All of this worked great but extended my painting time as I could only paint most parts one at a time.
I have to admit to some trepidation in pulling the base, infeed table and outfeed table completely apart. What if I can't get it all back together correctly? I even explored the possibility of masking off various parts and spray painting the entire assembly somehow. I soon became resigned that the result would not be good.
When I said that the Jet factory did not do a good job of painting the jointer… well, that was a bit of an understatement. It appears that they partially assemble the jointer and then paint it, as I found paint all over places. Places I did feel it should have been, like machined surfaces (the gibs and adjusting screws). A good portion of my time was spent removing paint, grime, rust, etc. from all the parts including all the screws and nuts.