I have been continuing my exploration of Japanese inspired wooden tableware by turning wooden sake and tea cups. I don't know how to distinguish one from the other so I am just going to call them "sake" cups.
They are quick and easy to turn and people seem to find a use for them. Here are a few examples...
This pair is turned from some scraps of spalted beech. I doubt seriously whether a Japanese craftsman would use wood this porous or spalted but I had these scraps and I think they made fairly attractive little cups. These are 2" and 2 1/4" tall and 2" at the maximum diameter. I finished them with multiple coats of brushing lacquer steel wooled between coats to seal the pores and the spalting.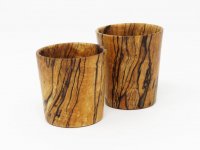 This cup is turned from a scrap of bubinga and finished up at 2 1/2" tall and 2 1/2" in diameter. It is finished in lacquer.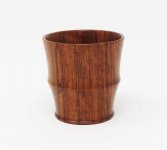 This style of cup is known as a guinomi and is a traditional form for a sake cup. Turned from very curly big leaf maple this cup is 2 3/4" tall and 3" in diameter. It is finished in lacquer and is probably about the right size for a traditional sake cup.
I had a lot of small pieces of ash which I decided to use for cups and then color and lime the result. I doubt a wood as open grained as ash would be used as a drinking vessel but I turned and colored them for their artistic appeal. One piece of figured maple snuck into the grouping; (the tall red one at the back). They are all 3" or less in height, most are around 2-2 1/2" and 2-2 1/2" in diameter. These were snapped up very quickly.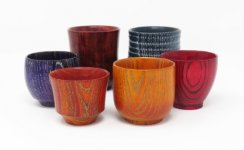 This style of cup is known as a sakazuki. It is traditionally used for formal occasions and designed to provide the maximum surface area for the user to enjoy the aroma of some warmed sake. Of course in reality the vessel would be ceramic but my reproduction is in a piece of lightly figured big leaf maple and is dyed . It is 1 1/2" tall and 4" in diameter. It is light as a feather as the foot is hollowed as well.