My friend brought this to me today. This is a Scallop Shell done by a chain saw artist that he buys a lot of his nautical stuff from. My friend resells at craft fairs and commission shops. My friend wants to make these on his own CNC machine.
So I stepped up to the challenge. I borrowed his Scallop shell and created my rendition of the shell in Aspire. The more I do this the easier it gets. This one took about 1-3 hours. I didn't really keep track of the time. I estimate it was more like 1.5 to 2 hours. I am pretty happy with this.
The chain saw artist is REALLY REALLY good at what he does, and REALLY REALLY hard to beat, but I am learning from his stuff. I will never beat him. After chain saw he sands then burns the wood. Then he wire brushes, distresses and lastly paints. He does such a good job it is an inspiration to learn from him.
Soooo HIS work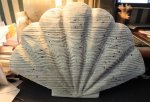 And my 3D model. Once I make it I will post it.