If I'm not mistaken, there are some name-brand turners doing this, so don't laugh too hard.
Bowl is 5-1/2"x3", candle holder is 5-1/2"x2-3/4".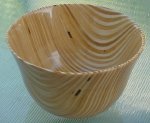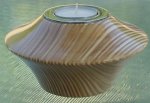 Yup, it's baltic birch plywood, 15mm (a tick under 5/8") times nine layers. Interesting stuff to work with: turns very nicely...if you ignore that fact that all you get is dust, no curls, not even many visible chips.