Some of the methods I am using are due to limitations and not the recommended methods per se
.
First there was a plan and the plan was good . . .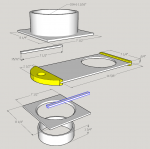 I will have a few variations but, most will be like these; hose on one end and ASTM-2729 pipe on the other. The tongue will be smooth-both-sides tempered hardboard. That material and my 1/4" MDF are not convenient right now so I picked up a handy-panel of 1/4" MDF at the BORG and will use that for the prototype. Break down some blanks: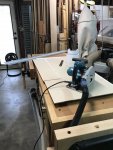 Spend 45 minutes trying to find my circle cutter. I have one that does 7". Measure and mark for the "pipe" side, clamp things down and cut a hole: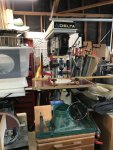 Patting myself on the back a little for being able to find my drill press AND move enough "stuff" to make it usable
. My DP only goes down to 250 RPM. This often bugs me but, not often enough yet I guess.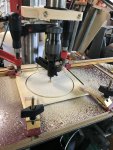 I did a test board to make sure I could fit the coupler section and then cut the MDF.
I should explain a bit. I cut a section out of a stick of pipe to reduce the diameter so the hose would fit over it snugly. I then cut this pipe into 1-3/4" sections. This leaves 1-1/2" sticking out to accept the hose and clamp. The pipe end is made by cutting a 6" coupler in half trying to split the "stop" rib that is in the center. I did these cuts by scribing around the pipe sith a blade in a marking gauge, cutting at least through the pipe wall with a hand saw and then following the scribe with a jig saw. I really should have had some pictures of that; it was pretty funny.
Time for the other side . . .
Last edited: