Disclaimer: I have been trying to resist posting things as I am between shops and hate to start threads that won't finish for an over-long time . . . I just can't hold out any longer; give me a break man, I'm bored to death
Thanks to all for their shop made blast gate threads. My version-1 will use 1/8" tempered hardboard for the slider and 1/4" material for the body. If initial testing proves successful I will forge ahead. Otherwise I may have to adjust.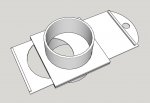 One of the nice things about making your own is you can customize them to your needs. A fundamental design element in mine is that most of the 6" gates will connect to 6" ASTM-2729 on the DC end and connect to 6" hose on the machine end. You can see the couplers in the background that will be crosscut in half to make the 'pipe' side connector for the gate. This first ramble is about getting the hose connection point right. I figure out how much to remove from a section of 6" pipe using a flat tape, piece of wire, sewing tape, whatever to size it to fit the hose. I mark it and using what is left of my sawing skills, I take out a section. *** remember *** I have NO SHOP. I was lucky to find the hacksaw
.
I double stick taped the cutout to a block of scrap and sanded the inner profile to be less interruptive. Luck of the draw, I can reach and plug in my shop vac and my edge sander
. The outer profile will be close enough to use as my 'seam reinforcement'.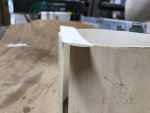 I proceed to make a mess with the primer, do a better job of adding the cement and attach the strip.
I attach the loose end and clamp it for a bit.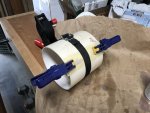 The inner wall looks acceptable. Especially as this surface will be the first thing the air flow hits coming out of a corrugated
hose
.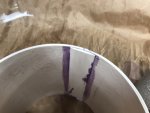 When attached to the gate this nipple will be about 2" long. Plenty of room to slip the hose on and band clamp it.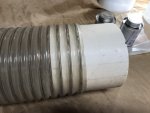 The fit is snug but, not a battle to get on. I don't know that I can (or have the will) to get to the tools to crosscut the coupler. I certainly am not setup to cut the other gate parts yet so this thread may hang for awhile . . .