So while making
the first thing I've made of any consequence
in a year and a half I realized a plunging, template guided router of lighter weight would have been nice. I had some material that dad had passed along to me. Some quick You Tube browsing on how to cut complex shapes out of plastic got me through cutting out and shaping the blank. Drilling the holes to mount the plate to the router was no big deal. I just used the factory plate as a template.
The scary part was the stepped hole for the template collar.
.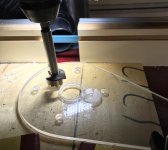 Having survived that I drilled and coutersunk a hole for a handle.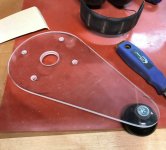 And there we go.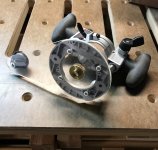 .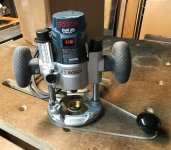 I'll give it a whirl on the next cutting board.