I've had a couple of prototypes of this design to I guess I should just call this one version 3. Like the previous versions the blower and filter will use a box as opposed to the shop-vac style barrel as sold. The innards of the filter box will be laid out later in this thread. Right now I am making use of some free plywood so the originally planned 3/4" and 1/2" material will all be 3/4". The whole rig mounts to the wall so the added weight is not going to bother me. This seems familiar so I hope I am not repeating myself in my old age. It will be something like so: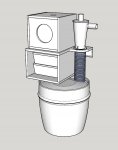 The filter box will st next to the DD as shown. The blower goes on the hole in the front. The box below holds a few of the plastic shoe-box-like containers that are part of my standard storage and organization containers.
I forgot that some of the design was to originally handle a 5 gallon busket. I am chainging to a floor standing barrel. I made some parts I didn't need and some parts too large. Glad the plywood was free.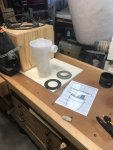 I use the metal collar from the DD kit to layout the holes for t-nuts.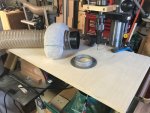 I drill and counter bore on the bottom to make the t-nuts flush. This is so they will not interfere with the 4" port I will attach to connect the hose.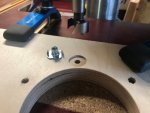 .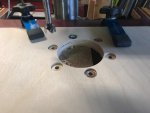 A good start. I will update as I go.
Last edited: